CITOGEN offers those research centres and/or laboratories that want to use Nanostring technology, but do not have the equipment to analyze the samples, the possibility of doing it in our laboratory.
Once the project is known, our experts will help you choose the most appropriate panel for your study. Depending on the protocol to be applied, the samples will be processed in the suitable equipment and we will share the results for analysis.
The NanoString® nCounter® platform provides a fast, simple solution for multiplex analysis of up to 800 RNA or protein targets, with no amplification, cDNA conversion or library prep required.
Why choose nCounter platform?
Save Time
Faster than qPCR, simpler than NGS.
Only 15 minutes hands-on time
Expertly curated panels (customized if required) for human and mouse.
Reduce errors
No cDNA conversion, amplification or library prep needed, which can introduce bias, error and variability
Save Sample
Optimized protocols for challenging samples, including FFPE tissue or lysates
Save Resources
Availability of advanced analysis tools, which reduces the need for Bioinformatics support
Digital gene expression analysis, which eliminates the need for technical replicates
Outstanding Reproducibility
Full automatization
High sensitivity and precision
Quantitative digital data
Quality assurance (ISO 13485 certified and GMP compliant)
NanoString's nCounter technology is based on the digital detection of molecular barcodes (colour-coded) linked to specific probes (reporter probes) for the gene of interest. In addition, other specific probes (capture probes), covalently linked to the former, hybridize with the target sequences to allow the immobilisation of the complexes formed by target sequences and probes.
Subsequently, excess unhybridized probes are removed, and the purified complexes are immobilised and oriented for signal scanning by using an automated fluorescence microscope. The generated data (CSV files) can then be analyzed with NanoString's free nSolver™ analysis software.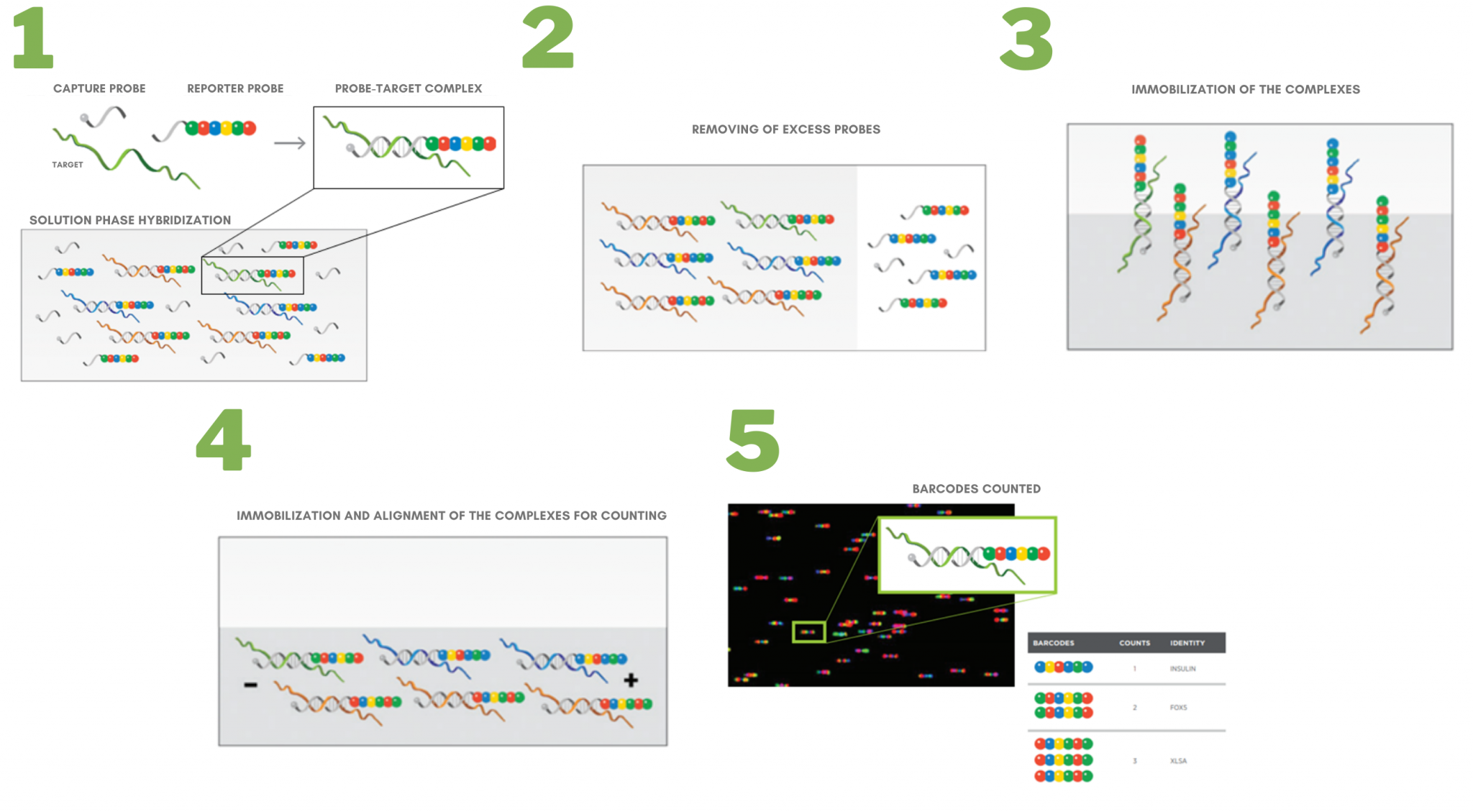 Consultation and Assistance with our Experts

Elección del Panel
A variety of expertly pre-designed and curated panels are avaible for RNA and proteins. In addition, they can be customized.
Immunology
Oncology
Inmuno - Oncology
Neurocience
Alzheimer's Disease Panel: Expression study of genes related to Alzheimer's Disease.
Glial Profiling Panel: Comprehensive expression study of genes in astrocytes, microglia, and oligodendrocytes, allowing a better understanding of neurodegenerative and neuroinflammatory disorders and neurotrauma.
Neuroinflammation Panel: Comprehensive expression study of genes from pathways, processes and cell types involved in neuroinflammation.
Neuropathology Panel: Expression study of genes involved in six fundamental themes of neurodegeneration: neurotransmission, neuron-glia interaction, neuroplasticity, cell structure integrity, neuroinflammation, and metabolism.
Mother Cells/Regenerative Medicine
Stem Cell Characterization Panel

:

Study of gene expression aimed at the development of Stem Cell therapies.
For more information about this type of studies, please contact us.
¿Hablamos?
Nuestro equipo de especialistas se pondrá en contacto contigo a la mayor brevedad para resolver todas tus dudas.